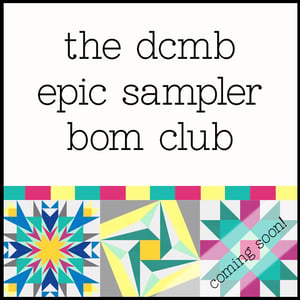 $

30.00
Spend thirteen fun months working on a beautiful sampler quilt that you'll cherish for years to come! Work at your own pace, or sew along monthly, creating three blocks per month. This block of the month project is perfect for quilters at all skill levels. All blocks are pieced either using traditional patchwork or foundation paper piecing, and detailed instructions are provided for each block, including cutting instructions, piecing instructions, and tips and tricks for each.
Subscribe now and save! Subscriptions placed before October 1st will get the special pre-sale rate of $25 (regular price as of October 1st: $30)!
On the first of every month, beginning October 1st, 2015, you will receive an email with a link to download the month's pattern. All emails will be sent to email address associated with the PayPal account used for payment. Each block pattern will include cutting instructions, step-by-step piecing instructions, and full-color diagrams. For this block of the month series, the three block patterns will be contained in one single download for your convenience. Download the file to your favorite computer and print it as needed for your piecing. For foundation paper pieced blocks, you'll see instructions in the pattern on how many copies of the templates you'll need to print, but not to worry, you don't need any fancy paper - regular plain old printer paper will work just fine!
Curious how much fabric you'll need? Download the fabric/supply requirements right here: Click here