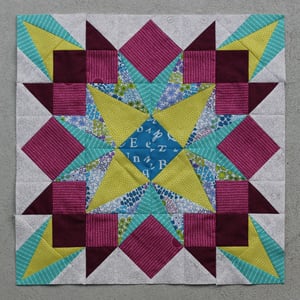 $

5.00
This paper pieced block is loaded with secondary patterns and lots of beauty! The Drop Dead Gorgeous block pattern included all four templates needed to make the 16" quilt block.
The Drop Dead Gorgeous block pattern is eleven full color pages of cutting instructions, piecing instructions, photographs and diagrams to illustrate the piecing, as well as line drawings of the block itself so you can experiment with your color placement.
Even if you've never paper pieced before, you can tackle this pattern. Yes, there are a lot of pieces of fabric involved, but it's broken up into bite-size, manageable chunks that you can do. And if you're an experienced paper piecer, you can totally rock this pattern.
If you make something using this pattern, please do share it with me! You can share it with me on Flickr in my Flickr group "Stitching with Don't Call Me Betsy" or on Instagram by tagging me (@dontcallmebetsy) or using the hashtag #dontcallmebetsy
NOTE: This pattern is for a PDF copy of this pattern. A link to download the pattern will be emailed to you within 2 hours of purchase.